Teeth Whitening
Your teeth will darken over time. Changes in the color of your teeth can be caused by such factors as the food and beverages consumed (like coffee, tea and soda). Other known factors for discoloration may include childhood medications or illnesses, tobacco use or improper oral hygiene. Restoring your natural white smile is a priority for our dental whitening team. We can provide a variety of options for whitening your smile.
Tooth whitening services are growing in popularity, and it's one of the most requested services offered by our practice. Everyone sees the growing consumer market focused on whiter teeth. The reality is that over-the-counter, "too good to be true" solutions typically don't work.
We are trained professionals using industry-approved methods. Our goal is to meet the needs of every patient, and every patient's needs are different. One of the methods used by our practice is a gentle hydrogen-peroxide gel-activated solution. Our process will whiten your entire smile in one visit. Call us today for a whitening evaluation.
Nothing improves your appearance more than a Bright, White SMILE!
Recent Study Participants are WOWed by the sensitivity free whitening that comes with Sapphire Professional Chairside Whitening!
Zero sensitivity
With Sapphire Professional Whitening, you can bid farewell to sensitivity – the most common patient complaint about whitening. Not even a pre-treatment Aspirin is needed when you use this breakthrough chairside formula. Offer your patients the more gentle way to whiten.
Easy maintenance for lasting results
Not only can you create bright, white smiles with Sapphire Professional Whitening, but also included in the kit is everything you need to maintain that radiance. Sapphire After Care is a complete maintenance kit with Sapphire Take Home Whitening and Sapphire Brilliance Toothpaste. Sapphire combines the speed of in office whitening with the longevity available with home whitening.
Unbelievable brilliance and health
Sapphire Professional Whitening allows you to achieve dramatic results quickly. When used with the Sapphire Supreme Light1, the system is proven to whiten smiles up to 7 shades in only 30 minutes. Sapphire Professional Whitening also allows you the flexibility to whitened smiles without light activation. Beyond beautifying smiles you can also protect them from demineralization and caries, thanks to the integrated fluoride.
With the Sapphire Supreme Light you can also say goodbye to complicated patient setup. Unlike other lights, it does not expose your patients to harmful UV rays and thus does not require protective sunscreen or face masks.
Your smile is important. It's one of the first things you notice when you meet someone. A whiter, brighter smile is beautiful – it can help you feel better about yourself and make a memorable impression
Your lifestyle and the aging process can stain and darken your teeth. Many things we do on a regular basis can contribute to stained teeth, such as drinking coffee, tea, cola and red wine or smoking.
Whitening can get your smile looking its best. Non-professional procedures and clinically unproven teeth whitening tips can often lead to unsatisfactory results, you should look for a whitening procedure that is:

 Fast and convenient 


Long lasting 


Low sensitivity 


Proven to be safe and effective 


Performed by a Dental Professional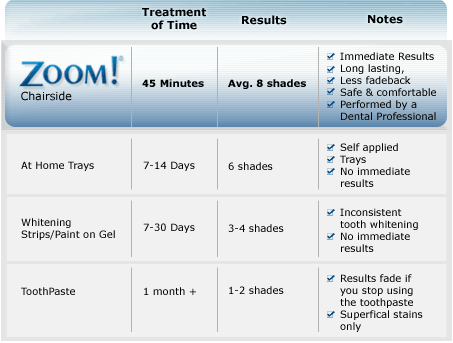 Cosmetic Restorations
Bonding is a common solution for:
Fixing or repairing chipped or cracked teeth
Reducing unsightly gaps or spaces between teeth
Hiding discoloration or faded areas on the tooth's surface
Often used to improve the appearance of your teeth and enhance your smile. As the name indicates, composite material, either a plastic or resin, is bonded to an existing tooth. Unlike veneers or crowns, composite bonding removes little, if any, of the original tooth.
Composite bonding has many advantages:
It is a quick process, which typically lasts less than one hour.
It does not reduce the tooth's original structure and is relatively inexpensive.
Composite resins come in many different shades and provide better matching of shades to the natural color of your teeth.
Composite bonds, however, are not as durable and long-lasting as veneers and crowns and may need to be re-touched or replaced in the future.
Composite bonds stain more easily and therefore require proper care and regular cleaning. In order to ensure the longest possible duration of the bonding, composites should be brushed and flossed daily. Common staining elements include coffee, tea, tobacco, foods and candy.
What makes LUMINEERS® Porcelain Veneers different from other veneers?
LUMINEERS ® BY CERINATE ® are porcelain veneers that offer the painless way to a permanently whiter and perfectly aligned smile. Your LUMINEERS dentist can apply these contact lens-thin "smile shapers" to teeth without any grinding or shaving, transforming teeth into a naturally beautiful smile that looks perfect for every individual. LUMINEERS can even be placed over existing crown or bridgework without having to replace them.
LUMINEERS are contact lens-thin and are placed over existing teeth without having to remove painful tooth structure (unlike traditional veneers.) LUMINEERS is the painless, permanent cosmetic solution for stained, chipped, discolored or misaligned teeth.
LUMINEERS can only be made from patented Cerinate porcelain unavailable anywhere other than the Cerinate Smile Design Studio. In just 2-3 visits to your LUMINEERS dentist, you can have a custom-made smile that is clinically proven to last over 20 years. Get your perfect smile today from the Inland Empire's preferred Lumineers dentist!
Contact-Lens-Thin to Save Your Tooth Structure

Little to no reduction of tooth structure
No shots or anesthetic required — procedure is entirely pain-free
Minimal preparation required
No temporaries required
Permanently whitens
A crown is a permanent covering that fits over an original tooth that is either decayed, damaged or cracked. Crowns are made of a variety of different materials such as porcelain, gold, porcelain fused to gold, zirconia, acrylic resin or a mix of these materials. Porcelain generally has the most natural appearance, although it is often less durable.
The treatment plan for a patient receiving a crown involves:
Numbing the tooth to remove the decay in or around it.
Re-sculpturing the tooth to provide an ideal fit for the crown.
Making an impression of your teeth in order to create a custom-made crown (usually takes one to two weeks).
Making a temporary crown out of acrylic resin and fitting it onto the tooth during the interim period when the permanent custom-made crown is being created.
Applying the permanent crown (when received from the lab) by removing the temporary crown and fitting the permanent one onto the tooth.
After ensuring that the crown has the proper look and fit, the dentist cements it into place.
This process generally consists of a minimum of 2-3 visits over a three to four week period. Once the procedure is completed, proper dental hygiene, including daily brushing and flossing, is required to maintain healthy, bacteria-free teeth, gums and crowns. This helps in the prevention of gum disease. Given proper care, your crowns can last a lifetime.
What is a bridge?
A bridge is a dental device that fills a space that a tooth previously occupied. A bridge may be necessary to prevent:
Shifting of the teeth that can lead to bite problems (occlusion) and/or jaw problems and resultant periodontal disease.
Bridges safeguard the integrity of existing teeth and help maintain a healthy, vibrant smile.
There are 3 main types of bridges, namely:
Fixed bridge- this is the most popular and consists of a filler tooth that is attached to two crowns, which fit over the existing teeth and hold the bridge in place.
The "Maryland" bridge is commonly used to replace missing front teeth and consists of a filler that is attached to metal bands that are bonded to the abutment teeth. The metal bands consist of a white-colored composite resin that matches existing tooth color.
The Cantilever bridge is often used when there are teeth on only one side of the span. A typical three-unit cantilever bridge consists of two crowned teeth positioned next to each other on the same side of the missing tooth space. The filler tooth is then connected to the two crowned teeth, which extend into the missing tooth space or end.
A bridge vs dental implants
When considering a bridge vs dental implants we must take the following factors into account:
Jaw bone resorbtion

 

– Treatment with a dental implant vs bridges involves placing implants in areas where there are no teethand by so doing, the bone area is stimulated again and this prevents long term bone loss in that area. If a bridge that connects 2 teeth is used instead of a dental implant, pressure is not applied on the jaw bone! Therefore the bone is not stimulated and begins to shrink away. Conclusion – dental implants preserve the underlying jawbone.
Improved oral health

 

– Dental implants do not affect your other healthy teeth, more of your own teeth are left intact. A bridge, on the other hand, may require the cutting down of healthy, adjacent teeth in order to support the bridge structure.
Durability

 

– a permanent solution to tooth loss is offered with a dental implant vs bridges , which have a life expectancy of only 10 years. Implants bond to the jaw bone and become part of it – this connection is as strong as a natural tooth root. Using a bridge relies on the side forces applied on the adjacent teeth and on the bridge's structure. When using a bridge vs dental implants, you support your structure on natural teeth that are still vulnerable to decay and other diseases, implants on the other hand cannot develop any diseases since they are made of titanium.
Oral hygiene

 

– Individual dental implants allow easier access between teeth, enabling everyday normal dental care. Flossing bridges is not an easy task and requires time and patience, making it a tiresome process. This fact eventually will give an advantage to the implants by enabling improved everyday oral hygiene.
Esthetics

 

– A dental implant vs bridges looks good due to modern technology allowing dentists to achieve results that look exactly like natural teeth. When comparing between a bridge vs dental implants, the conclusion is clear! Dental implants always look better than bridges.
Treatment plan flexibility

 

– Dental implants enable more flexibility in planning a treatment plan than bridges. As a matter of fact, in many cases only implants can be used and bridges are not an option! Example – when a few teeth are missing in the same site.
Price

 

– The price of a bridge is cheaper than a dental implant solution. But when thinking about the long run – you must realize that implants will be a cheaper option after all ! Because of the low durability of the bridges and complications that might occur, additional expenses await you down the road.  Example – having to replace the bridge…
So, after considering a bridge vs dental implants and taking all the factors onto account – it is quite clear that the dental implants solution is preferable. Even though the initial price is higher, in the long run it is actually a cheaper alternative.

WHAT OUR PATIENTS SAY
I continue to have my dental needs taken care of at SmileNOW Dental Group.  They are the best!  Always professional, welcoming, and with a sense of humor.  They make each visit pleasant and they reassure me that my teeth and gums are healthy.  I can smile knowing that my smile is a happy one.
I refuse to take Novacaine to numb me and if I'm sure that made them a little uneasy. But I was very pleased with the service I received.
Thanks to "SmileNOW Dental in Corona" Dr. Cruz, Veronica, Liz and Cindy for staying in the office to reset and splint Sequoia's top and bottom teeth. Soft for for the next two weeks…