Braces
Years ago, orthodontic treatments were used only for pre-teens and teens having problems with their bite (malocclusion). Today, orthodontic treatments like dental braces are not only for pre-teens and teens, but for adults as well.
Close to 30% of all orthodontic patients in the United States are adults. Despite this growing trend towards adult orthodontics, it pays to start orthodontic treatment early for maximum effectiveness. The American Dental Association recommends that children receive an orthodontic evaluation by age seven.
Since malocclusion may interfere with eating and speaking, it is usually considered a restorative issue. Although, because a malocclusion may prevent the development of a beautiful, well-aligned smile or facial jaw lines, it may also be classified as an esthetic issue and categorized as cosmetic dentistry.
No matter what your age, orthodontics can protect your bite (occlusion), maximize your teeth's effectiveness in performing their functions and create a well-aligned smile. Today.s orthodontics involves repositioning of the teeth and underlying roots, providing better support for the crown of the tooth. Orthodontic treatment is now associated with the benefits of greater esthetic appeal, increased comfort and reduced treatment time.
Orthodontic treatment can also rejuvenate your facial appearance by reshaping the jaw, neck and lips, especially when combined with maxillofacial surgical procedures. In addition, well-aligned teeth make oral hygiene easier to maintain.
If you are a candidate for orthodontics, you will likely be referred by your general dentist to an orthodontist for evaluation of your bite. During your first orthodontic visit, your orthodontist may use several methods to develop an individualized treatment plan, including:
Oral, facial and functional evaluation (examination).
Intraoral and facial photographs.
Panoramic and cephalometric X-rays.
Impressions for models of the teeth and bite.
An orthodontist reviews your dental records, performs a clinical assessment, takes X-rays of your mouth and head and makes models of the teeth by creating an accurate impression of them. The results of this evaluation are studied in order to formulate the best orthodontic treatment plan.
Typically during the second visit, your orthodontist reviews the treatment plan and estimates the number of months for the active phase of treatment. The standard treatment phase is two years. Following treatment, you may be required to wear a retainer for a period of time.
The duration of orthodontic treatment varies based on your age, the extensiveness of the procedure (some people require more work than others) and how closely you follow your treatment plan. For example, younger patients may respond more quickly to treatment than older patients because the bones supporting young teeth are more pliable than those supporting older teeth. However, adults tend to follow treatment instructions more consistently than pre-teens.
In some cases the treatment time is longer. For example, oral surgery and recovery may be needed before or during orthodontic treatment.
Invisalign
Your Invisalign treatment will consist of a series of aligners that you switch out about every two weeks. Each aligner is individually manufactured with exact calculations to gradually shift your teeth into place. And since your Invisalign system is custom-made for your teeth and your teeth only, with a plan devised by you and your dentist or orthodontist, you know you'll end up with a smile that truly fits.
If you're ready for a smile that transforms your appearance, Invisalign is your answer. Although there are many choices out there, no other works as effortlessly as the Invisalign system.
Invisalign is the best way to transform your smile without interfering with your day-to-day life.
Not only is Invisalign versatile, helping to correct a broad range of dental and orthodontic issues, but it really works. And there are over half a million smiles to back that up. But a confident smile isn't the only benefit of correcting your dental issues with custom-made Invisalign aligners.your health can be positively impacted as well. Learn more about several common issues below that an experienced Invisalign doctor can work with you to correct.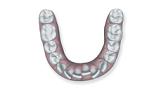 Overly crowded teeth: This occurs when there is simply a lack of room within your jaw for all of your teeth to fit normally. When left untreated, overly crowded teeth can cause dental decay, an increase in chances of gum disease, and can prevent the normal function of teeth.
Widely spaced teeth: This occurs with abnormal continued growth of the jaw bone. When teeth are missing, this issue can also be caused by the other teeth shifting due to extra space. Spacing issues in teeth can cause some periodontal diseases.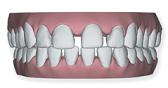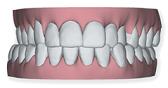 Crossbite: This occurs when the upper and lower jaws are both misaligned. It causes one or more upper teeth to bite on the inside of the lower teeth, and can happen on both the front and/or the sides of the mouth. This issue can cause wear of the teeth, gum disease, and bone loss.
Overbite: What people commonly refer to as an "overbite" is known to dental professionals as "overjet." It occurs when the upper teeth bite over the lower teeth. It's typically caused by either genetics, bad oral habits, or over development of the bone that supports the teeth. This issue can lead to gum problems or irritation, and/or wear on the lower teeth and can cause painful jaw and joint problems.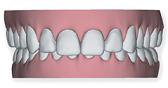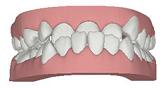 Underbite: This occurs when the lower teeth protrude past the front teeth. It's usually caused by undergrowth of the upper jaw, overgrowth of the lower jaw, or both. It can also be caused by missing upper teeth. This issue can prevent the normal function of front teeth or molars which can lead to tooth wear. It can also cause painful jaw and joint problems.
An Invisalign doctor will work with you to create a custom-designed program that will treat your specific dental or orthodontic issue(s). Your treatment program will consist of a full set of aligners, made for you, and only you.
And of course, there are other considerations when making the decision to straighten your teeth. Think about how Invisalign can fit in your life by providing a virtually-invisible option to getting the smile you want.
Over 500,000 people are smiling brighter thanks to the Invisalign system. See how just a few of their lives have changed with Invisalign.

I'm so glad I made the investment to go with aligners rather than metal braces. I've heard stories of people having food stuck in their metal braces, and I didn't want to go through that. It's so easy.all I have to do is remove my aligners when I eat.

I wanted my teeth straighter, but I didn't want to be in pain. My aligners are so comfortable, compared to the metal braces I had when I was a kid, that sometimes I forget I have them on.

I always wanted to have straight teeth, but never thought my smile would look this great. Plus, no one even knew when I was wearing them. I couldn't be happier!

At first, I was skeptical about whether or not to use plastic aligners to straighten my teeth, but I am very glad I decided to make the investment. In just about nine months my teeth were straightened using the clear, comfortable, and easy-to-remove aligners. I'm a busy guy, and using Invisalign fit right into my lifestyle.

Everybody comments on my new smile, even when I'm wearing the aligners. Plus, I can remove them at any time, so they don't affect my lifestyle.

WHAT OUR PATIENTS SAY
Great experiences so far. Place is clean, the staff is very friendly, helpful, good with my kids (who are 9 & 11), & they take many different insurances. My kids like that they can watch a movie while getting work done, and there's enough things in the waiting room to keep my younger one entertained (fish tank, waterfall, toys, tv).
Very friendly and accommodating staff. I felt at ease during my procedure and I was in and out quickly.
Love this dentist!!!! Great with the whole family . My 9 year old daughter has had to have extensive work on her teeth ,and they have done a great job every time. Thank You SmileNOW.
My 14 year old son has Braces and they do a Wonderful job at that also.